Regular price
$89.00 USD
Sale price
$89.00 USD
Unit price
per
Sale
Sold out
 1. [Plug and play, suitable for all cars]
This portable touch screen unit is equipped with a sturdy bracket with suction cups, which can be installed on smooth surfaces, such as windshields, dashboards, etc. You don't need to disassemble the car console, keep the car's original radio, and coexist perfectly. Note: This device cannot be controlled by the steering wheel or knob.
2. [Wireless and Wired Apple Carplay]
A smarter, safer, and more fun way to use iPhone in the car. Apple CarPlay provides iPhone users with a very intuitive way to make calls, use maps, listen to music, and access messages with just one word or touch.
3. [Support Android Auto]
Enjoy the seamless connection and control of the Android smartphone in the car. Android Auto allows you to make calls, browse Google Maps, listen to music, and receive text messages.
4. [How to get sound from car audio]
This device has a built-in speaker, but if you want louder sound, you can transmit it to the car speaker: Through the FM radio transmitter, you can set the same on the device and the car radio FM radio channel (please avoid using channels to be occupied by FM radio stations). If the car has it, please plug it into the original auxiliary port of the car through the AUX cable.
If you have any questions, please feel free to contact us, we will reply within 24 hours.
LIGHT SCREEN Portable Connected Screen
Wireless CarPlay ·Wireless Android AUTO·Wireless Mirror · Multimedia
Why LIGHT SCREEN?
LIGHT SCREEN allows driving to use the mobile phone's built-in navigation program, music program, phone program, information program and other necessary APP applications, connected to the large screen for use, without interfering with the daily use of the mobile phone
Suction cup type mounting + Middle control vertical installation
No need to disassemble the car, it can be installed and used by yourself Windshield sucker hanging upside down, can also be centrally controlled vertical installation
Anti-glare HD on-board screen
Specially equipped with anti-glare car level screen, can still be clearly visible in any light, standard 7 inch screen, that is, not to block the sight, can also be large screen display
Full Angle loading bracket Really all angles
LIGHT SCREEN standard with a true full Angle bracket,Up and down, left and right, front and back, 360 circles, Any Angle adjustment
Car grade front - mounted chipExtremely cold and high temperature resistant
LIGHT SCREEN is not a digital product, but a standard product made for the vehicle. It can easily adapt to the working temperature from -20° to +70°, and it can still run steadily for several days and nights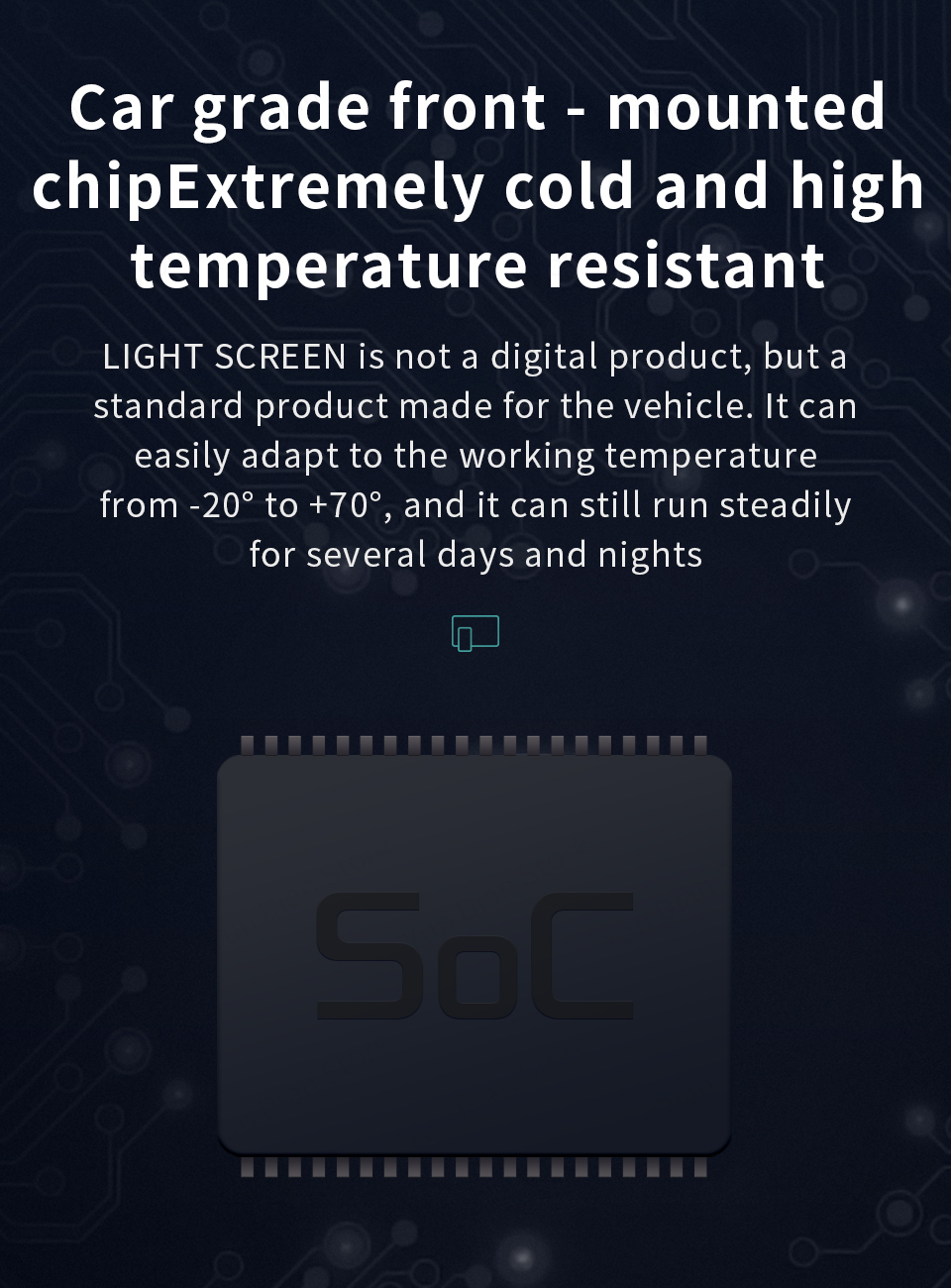 Working voltage self - adaptive Cars and trucks all fit together
Built-in LDO voltage management chip in LIGHT SCREEN, Can adapt to the 12V voltage of the car, Or 24V truck buses can be used on electricity
High fidelity FM pairing+AUX-OUT
The light screen has a built-in multi-chip audio output mode, and you can choose FM to frequency wireless or wired AUX audio output, and transmit the audio to the car host for amplifier amplification, built-in DSP decoding and ** segment EQ adjustment, retaining high-fidelity audio transmission
AHD night vision Reversing image (optional)
LIGHT SCREEN compatible with mainstream AHD digital signals And CVBS analog signal camera, supporting the option of forward-looking image Or reversing image, can be automatically switched display
Wireless CarPlay
Wireless CarPlay in-car system allows you to safely stay in your car Use iPhone to sync mobile apps in focus Synchronize your phone's navigation apps while driving, Music software, making phone calls, Siri voice, sending and receiving messages, etc.You just plug in your iPhone and go
Wireless Android AUTO
Connect your phone to your car display—your Android apps show up onscreen, just like that. Tap to get driving directions or talk to send a text. Even call your mom, hands-free. Android Auto is made to help you focus on the road. And have fun along the way. Just plug in and go
Wireless Mirror
LIGHT SCREEN built-in wireless video image projection function, Put the phone screen into the central control large screen wirelessly through WIFI. Simultaneously synchronizes the phone sound to the main engine of the original car, You can enjoy videos and videos in your car, or sync all of your phone's apps
LIGHT SCREEN use process
1.LIGHT SCREEN with bracket mounting
2.Adopt the LIGHT SCREEN to the windshield or
install the central console vertically
3.Powered by cigarette lighter, compatible with
12V/24V vehicles
Installation effect display
Installation effect display
Share
View full details