Applepie Max Car AI Box Android 10 Wireless CarPlay Android-auto 4G LTE SIM Mirror Shell Qualcomm 8 Core USB Youtube Netfix
Description ⚪ ApplePie MAX(model: AI-996 Max) is the 4nd.version of our ApplePie Series CarPlay Android Car Smart Ai...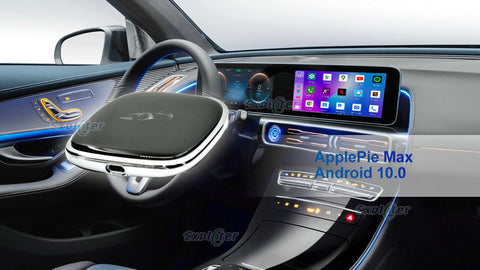 Description
⚪ ApplePie MAX(model: AI-996 Max) is the 4nd.version of our ApplePie Series CarPlay Android Car Smart Ai Box, Android 10.0 OS, online video, audio and control data such as touch ,the buttons on the steering wheel, the knob operation and so on.
⚪ Through the OEM CarPlay USB OTG interface in the car,and mirroring the whole Android system to the OEM screen.
⚪ User can control and operate Apple Pie on the OEM screen,
⚪ powerful video decoding and playing ability,
⚪ fully open software application environment.
⚪ Support car listing: all the car models with original Apple Carplay available.
⚪ Warm note:
Our car Ai box: Applepie can work to almost all original car radio system with wired Apple Carplay function.

NOT work to BMW radio system with wireless Carplay;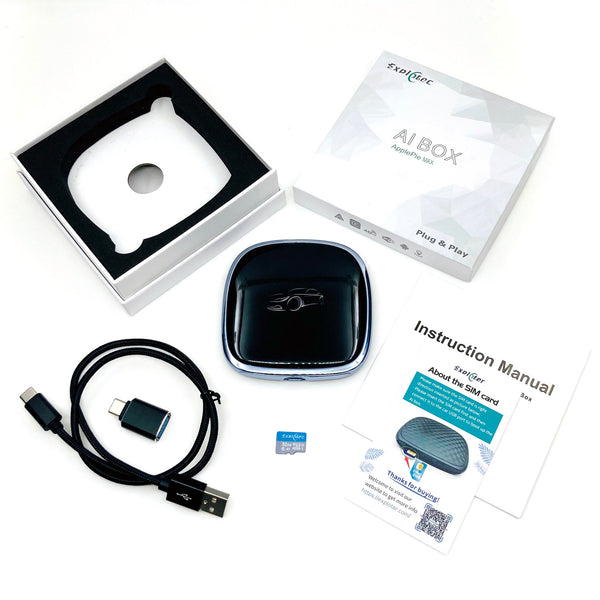 ApplePie MAX (AI-996 Max) Android CarPlay MMB box with 4G built-in
Android 10.0 system, wireless CarPlay ,Wireless Android Auto into one module
Provide Google Play store. Free download and install different APP software
Full free and open system to DIY own ApplePie and different launch
Dual Bluetooth built-in for hand free calling, Music and connect all kinds of Bluetooth TPMS,OBDII etc.
Mirroring whole Android system to OEM Car screen via OTG plug
HD Video display ,Watch Youtube, online navigation, online radio multimedia system
Slip screen display and picture in picture
OEM Touchscreen or OEM Buttons knob control
Keep OEM Function ,not impact OEM features
Easy to connect , power supply by OEM CarPlay USB port
Built-in 4G/3G/2G, ApplePie can be used as a mobile WiFi route to be a hotspot to other device
Strong specification to offer a stable performance
4G.WiFi,GPS Antenna all built-in the unit
If your item arrived damaged/defective/parts miss, please send us
a clear picture or video of the issues through Email to
🔵sales8@exploter.com,
We will resolve it (brand new replacement / refund) as soon as receiving your email.
🟠Note please: All international customers are responsible for the customs duties within their own country. For more information, please contact our sales.